This thin mint cheesecake dip is the perfect indulgent treat to satisfy your cravings. Decadent chocolate, creamy cream cheese and a refreshing hint of mint make this thin mint dip utterly irresistible.
It's so easy to prepare too - just whip it up in minutes using simple ingredients.
Whether you're entertaining guests or need a quick pick-me-up, this thin mint cheesecake dip is sure to leave you feeling satisfied.
So what are you waiting for? Get your thin mint fix today!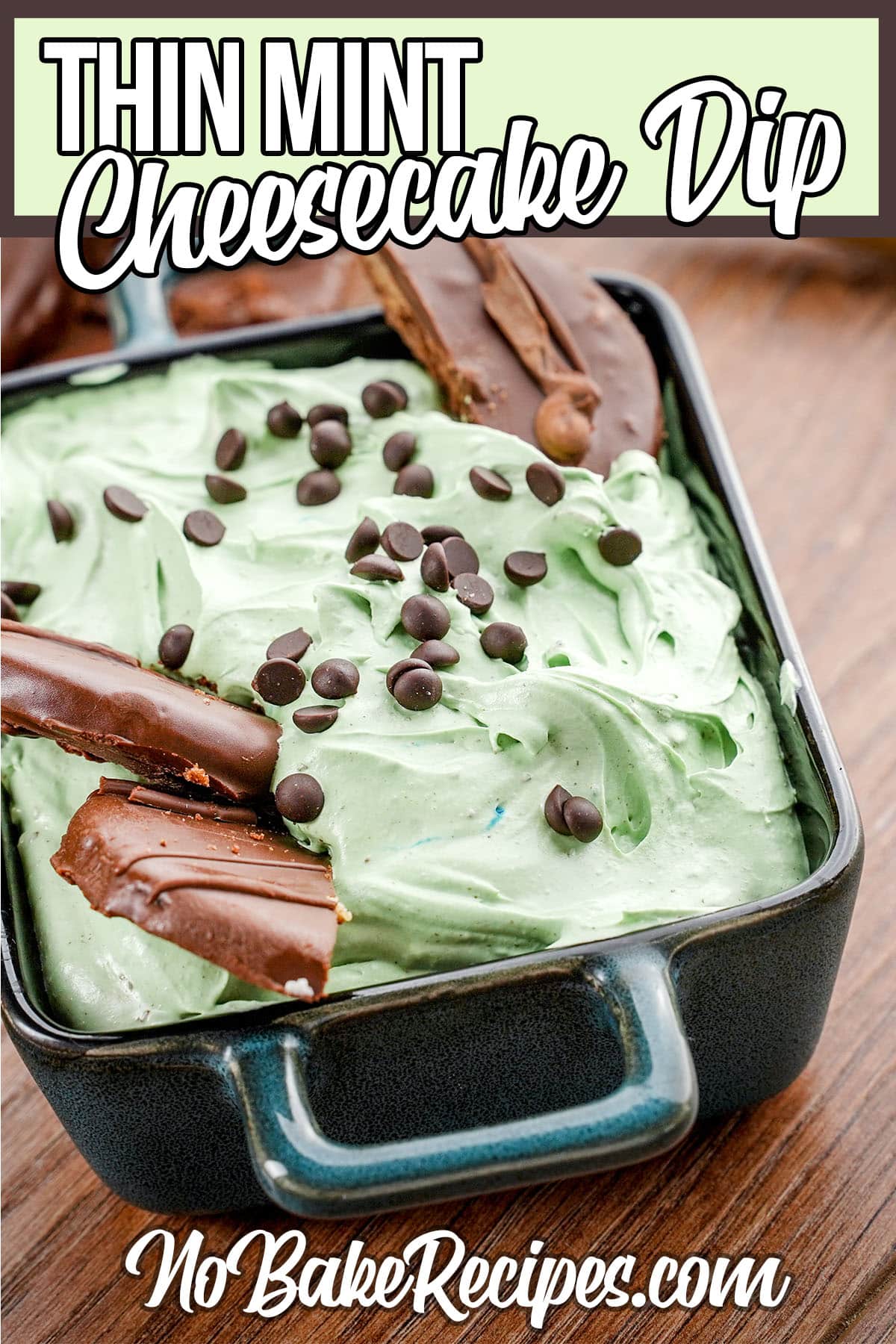 Easy and Fun Thin Mint Cheesecake Dip - No-Bake Dessert Dip
This thin mint cheesecake dip is the perfect treat for any season or event. Whether you're hosting a summer BBQ, throwing a holiday party, or just looking to satisfy your own sweet tooth cravings, this thin mint cheesecake dip will be sure to please.
The rich chocolate and creamy cream cheese combine for an indulgent dessert that's sure to make everyone happy and satisfied.
Serve it as-is or with some graham crackers for dipping - either way this thin mint dip is sure to be a hit!
So don't wait - whip up this delicious thin mint cheesecake dip today!
What Is a Dessert Dip?
Dessert dips are a delicious way to enjoy some favorite treats.
They can be made with a variety of different ingredients, from chocolate and caramel to peanut butter and jelly.
Dessert dips typically consist of a creamy base (like cream cheese or pudding) that is combined with other flavors for an indulgent treat.
This thin mint cheesecake dip is the perfect example of a delicious dessert dip.
With its rich chocolate and refreshing mint, it's sure to satisfy your sweet tooth cravings!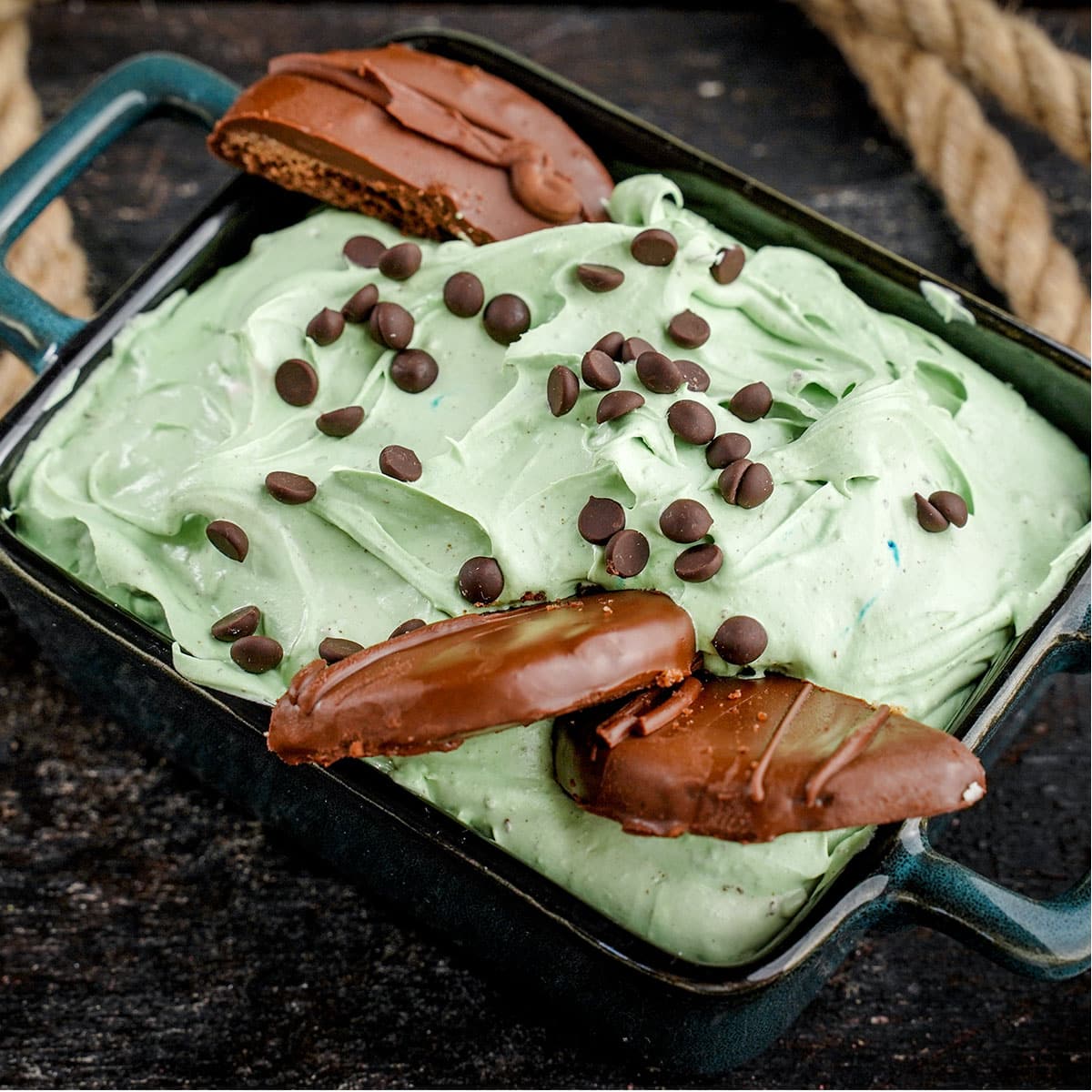 What Goes into Making Thin Mint Dip?
8 oz cream cheese
9 fl oz whipping topping
1 cup sugar
½ cup half and half
1 teaspoon vanilla
1 tablespoon mint extract
½ cup thin mint cookies
¼ cup chocolate syrup
1 tablespoon green food coloring
Pinch of salt (optional)
Kitchen Tools Needed
You're not likely going to need to need anything that you don't already have in your kitchen, but just in case, I have some links for my favorite kitchen tools to use.
How to Make Thin Mint Cheesecake Dip
Pour the whipping topping in a big bowl, mix it with an electric mixer until it doubles and place it aside.
In another bowl beat the cream cheese. Add sugar and continue mixing. Add in half and half and continue mixing. Then add in vanilla, mint extract and salt and continue mixing.
Add the whipped topping in the cream cheese mixture, add thin mint cookies (crushed with your own hands) and add the green food coloring. Stir it together until smooth.
This mixture is poured over the crust in the mold. Place it back in the fridge for at least one hour or until it is set.
Frequently Asked Questions
Why Do They Call Them Thin Mints?
Thin mints have been around for many years, and their iconic thin diameters make them stand out from other types of cookies.
In addition to the thin shape, thin mints also boast a unique flavor combination of chocolate and cool mint.
This thin mint cheesecake dip takes that classic flavor to a whole new level - combining the delicious thin mint flavor with creamy cream cheese and a hint of sweetness.
Is this Dessert Dip Vegan?
No, thin mint cheesecake dip is not vegan. It contains dairy ingredients such as cream cheese and milk chocolate. If you're looking for a vegan thin mint dip alternative, try making your own with vegan cream cheese and vegan dark chocolate instead.
Is this Dessert Dip Gluten-Free?
No, thin mint cheesecake dip is not gluten-free.
Tips for Storing Thin Mint Dip
Once you've prepared your thin mint cheesecake dip, store it in an airtight container in the fridge for up to 5 days.
If you need to prepare this thin mint dip ahead of time, make sure to cover the surface with cling film before placing in the fridge so that it doesn't form a skin on top.
For best results, serve thin mint dip at room temperature.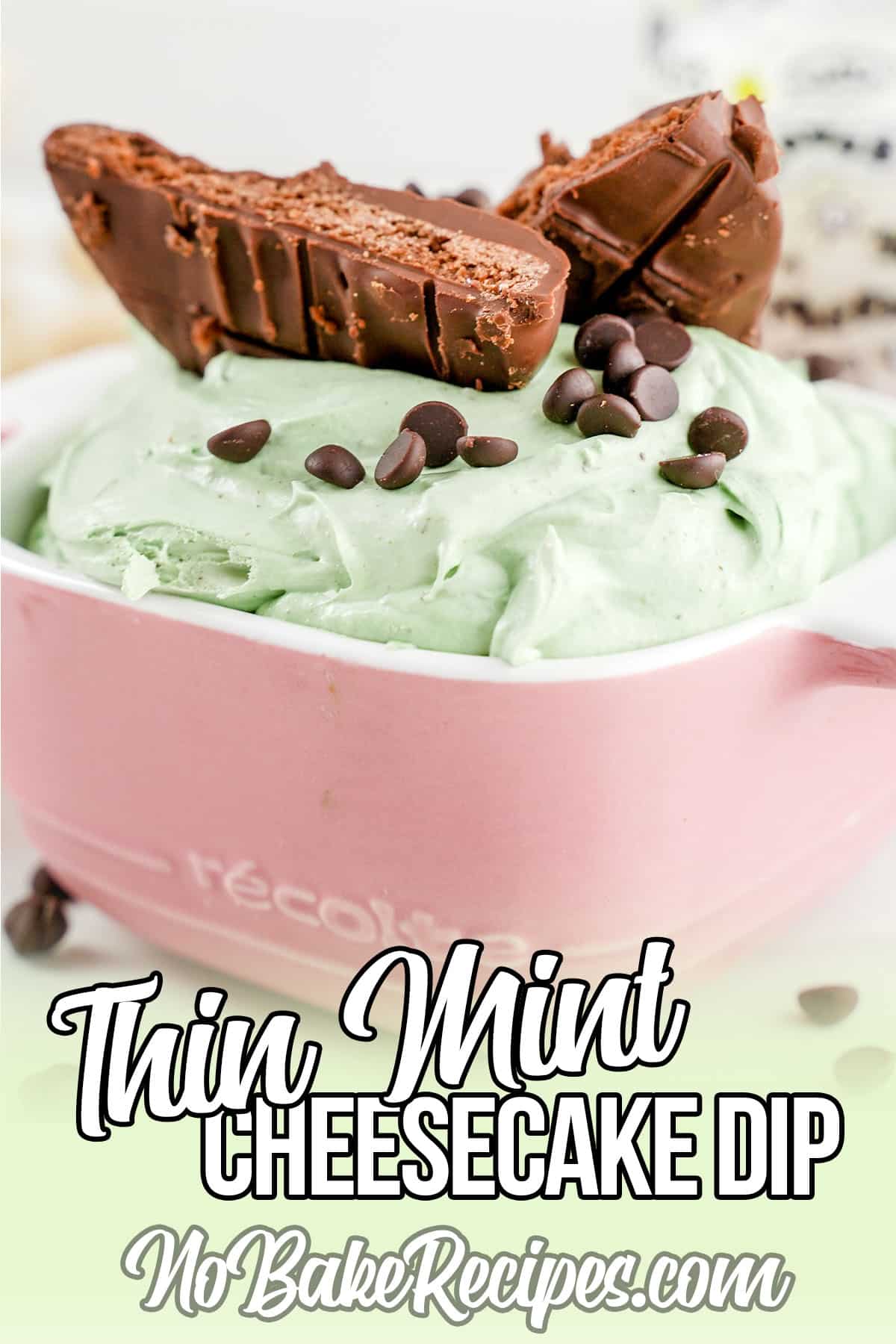 Looking for More No-Bake Desserts?
If you love the idea of a no-bake dessert so your kitchen doesn't heat up unnecessarily, join the club! We will be adding more delicious ideas here soon, but for now, check out these favorites that are often on our dessert menu. Make sure you bookmark the recipes or print them out so you will have them on hand when you need an easy treat!
Yield: 10
Thin Mint Cheesecake Dip
Craving an amazing treat? Why not go for this chocolatey, creamy and minty thin mint cheesecake dip. Once you start you might not stop.
Ingredients
8 oz (226g) cream cheese
9 fl oz ( 1 cup ) whipping topping
1 cup (200g) sugar
½ cup (118ml) half and half
1 teaspoon (4.9ml) vanilla
1 tablespoon (14.ml) mint extract
½ cup (50g) thin mint cookies
¼ cup (60ml) chocolate syrup
1 tablespoon (14ml) green food coloring
Pinch of salt (optional)
Instructions
First of all, use a hand mixer to stir the whipping topping.
Mix the cream cheese and add sugar, vanilla, mint extract, pinch of salt, half and half and whipped topping with the chocolate syrup. Mix until everything is well combined and smooth.
Crush the thin mint cookies and add in the previous mixture with all ingredients.
Depending on your taste, pour the mixture into small bowls and decorate with chocolate syrup and crushed thin mint cookies.
Chill for 30 minutes and then serve.
Recommended Products
As an Amazon Associate and member of other affiliate programs, I earn from qualifying purchases.
Nutrition Information:
Yield:
8
Serving Size:
1
Amount Per Serving:
Calories:

139
Total Fat:

10g
Saturated Fat:

6g
Trans Fat:

0g
Unsaturated Fat:

4g
Cholesterol:

28mg
Sodium:

213mg
Carbohydrates:

5g
Fiber:

0g
Sugar:

3g
Protein:

7g